On February 11th, St. Paul Police Officers were called to an apartment building on the 100 block of Western Avenue South on a report of a man threatening people with a knife in the community room around 5 p.m. Saturday. Officers made contact with Yia Xiong and asked him to drop the knife. He did not respond, allegedly turning to unlock his apartment door and go inside. As he went inside, officers kicked the door to stop it from closing and asked him to come out before backing away. Yia Xiong opened the door and stepped into the hallway with the knife still in his hand. It was at this time that officers Abdirahman Dahir and Noushue Cha fired their weapons, and Yia died at the scene.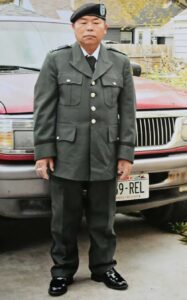 Mr. Xiong's family reports that his language barrier and significant hearing loss may have resulted in him being unable to respond to the officer's commands. While fighting in the U.S. Secret War (from 1964 to 1973) in Laos, Yia lost his hearing. After moving to the U.S., he worked hard to support his family despite not speaking English. Instead of acknowledging that Mr. Xiong lived in a housing complex meant for seniors and that this population often has difficulties and comorbidities that result in hearing loss, delirium, or sensory deficits, there was no effort to deescalate before Mr. Xiong was shot.
Our deepest condolences to Mr. Xiong's family, as well as to the entire Asian American community who is grieving for another Asian senior (over 60+ years old) involving in violent incident after the two California mass shooting cases. Once again, we call to improve such military-based tactics for policing which substantially result in the loss of life, disparately affecting our Black, Indigenous, and People of Color members. As an example, in Japan, under such situation, the first instinct is not to reach for a gun – what most Japanese police will do is to get huge futons and essentially roll up the person who is being violent into a "burrito," so the person can not harm others or him/herself. The police then carry the offenders back to the station and calm them down. The response to violence is to never default to violence – it is to deescalate!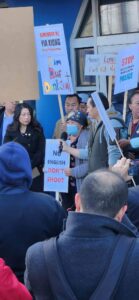 In addition to seeking justice for Mr. Yia Xiong, Asian Media Access likes to bring attention to the higher than usual percentage of Asian seniors involving in violence – we need to broadly discuss the safety issue with our seniors, and need to communicate with them when encountering the police, they should raise their hands and open 2 arms, as a universal "no-threat-to-anyone" sign. We also expect a high spike in needs of trauma-informed cultural healings for our elders.
Mr. Xiong's family has set up a GoFundMe for funeral and legal expenses, please consider to contribute: https://gofund.me/9c65efc3