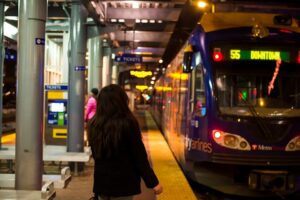 Preface: Asian Media Access has been involved in Blue Line Planning since the early 2010s, from its conception, community health assessment, construction (from airport to Target Field Station), old extension route selection, and proposed new extension route, until today's engineering design and station development for its extension. The more we are involved, the more we see the presence of sincere efforts to position equity in all level of planning, along with how hard it is to carry out in reality, how valuable it is for all of us to move toward true equity anyway, and how we can put public transportation in the heart of Asian American community.
BLRT March Rescheduled Minneapolis Meetings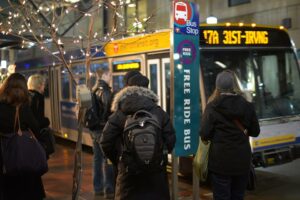 The METRO Blue Line Extension light rail transit project will extend the existing Blue Line northwest from Target Field Station to Brooklyn Park and connect communities along the way. This is an effort 20 years in the making, a major infrastructure change with limited involvement from Asian Americans. When it comes to big issues that are important to the Asian American community, transportation doesn't always spring to mind first. Other matters such as civil rights, immigration, education, health care and small businesses have historically been at the forefront of concern.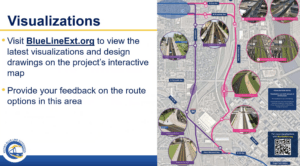 But if we think further, transportation plays a huge role in revitalizing, reshaping, and defining communities – especially when it comes to public transportation. Transportation is all about improving mobility, connecting people and places to each other, and making communities accessible. The way in which transportation systems are created, supported, and operated helps businesses succeed and neighborhoods thrive.
Therefore, Asian Media Access is calling upon all Asian Americans to consider further involvement in the Blue Line planning efforts in the following ways:
STRATEGY #1 – Asian Media Access calls for an Asian American Cultural Corridor along the Blue Line, envisioning more radical changes to the urban landscape. Currently, we have moved away from the old Chinatown model, often an extension of the colonial gaze which permits tourists to view Asian cultures as exotic objects on exhibition, asserting codes of dominance and subjugation and creating uneven power relations. Instead, our idea adopts new cultural pride and cultural arts to share perspectives and write our own narratives (like the current local Asia Mall's success) to remove historical trauma, and reimagine Asian American economic power.
POTENTIAL ACTIONS: Please connect with Asian Media Access to help us to perfect the design of an Asian American Cultural Corridor, and advocate for resources to support.  Please check this interactive GIS map to take you to Asian American small businesses along the Blue Line – https://experience.arcgis.com/experience/802905182bf641f5af83b2136a3f80df/page/BLE-Map/?views=Map-layers
STRATEGY #2 – Sharing your opinions about transit in general. The majority of Asian Americans may not live close to the Blue Line, but large and long-term infrastructure developments often develop beyond issues of access into issues of justice. Therefore, the more Asian American voices that can be involved, the better policies can be developed. In other words, we can understand how resources are allocated, or how English proficiency influences public transit use and health, or how English proficiency should be addressed during the development and implementation of public health and transportation policies and interventions.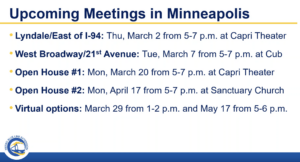 At an early stage, the route selection went through Wirth Parkway. This was an inequitable decision made to bypass North Minneapolis, to connect more affluent suburban cities from North to South. Luckily, in 2021, the route was revised to potentially pass through either West Broadway or Lowry, and many residents chose West Broadway. After the decision was made for the light rail to go through West Broadway, there existed a few potential links between West Broadway and Target Field—currently two routes are being evaluated, including running the light rail only on West Broadway or only on 21st Ave N.
POTENTIAL ACTIONS: Two in-person workshops are offered, we invite you all to participate at:
A. Minneapolis – Target Field Station to West Broadway Route Options
Thursday, March 2 | 5 – 7 p.m.
Capri Theater
2027 West Broadway Ave Minneapolis, MN 55411
B. Minneapolis – 21st Avenue vs West Broadway Route Options
Tues, March 7 | 5 – 7 p.m.
Cub Community Center 701 West Broadway Ave Minneapolis, MN 55411
Join us for a discussion on project opportunities, impacts, and solutions to meet the needs of businesses and residents along the route options being evaluated in Minneapolis. Project staff will be on hand to share the latest design and environmental updates and answer questions. Come and go at any time. There is no formal presentation.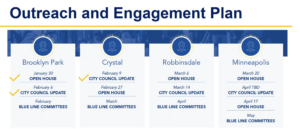 STRATEGY #3 – Providing more specific suggestions toward engineering design. Residential density, land use mix, connectivity, the provision of sidewalks, and urban form are all shown to be associated with the use of public transportation. The planning process can involve a broad range of contextual factors, not only factors of objective environmental quality (e.g., air pollution, noise, heat, and traffic hazards) but also subjective quality (e.g., satisfaction and perception and response to their environment).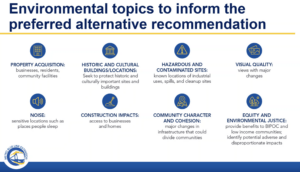 However, given the heterogeneity of Asian American populations and the importance of other factors such as age, education, and socioeconomic status on individual's travel behavior and residential self-selection, future explorations may be taken into consideration within-group variation in the Asian American population. For example, because younger, middle aged, and older adults represent distinct cohorts with different lifestyles and levels of physical ability, the effect of built environment on active travel and health status may vary. For more members with diverse ages to get involved would be so useful to Blue Line route development and station design, so that it can effectively address the specific needs of different Asian American age groups.
POTENTIAL ACTIONS: Currently, the Environmental Review Process is underway. County crews are performing field work to study and understand the potential social, economic, and environmental impacts and benefits that may occur because of the design, construction, and operation of the Blue Line Extension route options. This work is planned to continue into 2023. You may provide comments on:
● Phase I environmental site assessment: Currently underway
● Wetland delineations: Complete October 2023
● Noise and vibration monitoring: Winter 2023
STRATEGY #4 – Joining the decision-making body to further advance EQUITY at a higher level. For example, the Blue Line Extension anti-displacement workgroup is meant to help prevent displacement and maximize community benefits in the corridor. It includes representatives living in the community and from nonprofits, small businesses, and government.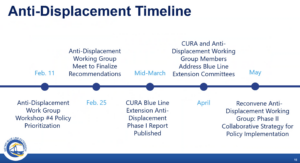 During the third workshop, which focused on business and cultural displacement, the group discussed the following topics:
● Cultural displacement and placemaking
● Policies to support businesses
● Structure for recommendations
POTENTIAL ACTIONS: The final workshop will occur in March 2023 and focus on anti-displacement recommendations. Learn more about this work and view a full meeting recap and materials on myBlue Lineext.org/anti-displacement.
Please consider different strategies and potential actions, and join Asian Media Access to write our own narrative of the Blue Line Story.